Roofline & Guttering
High quality seamless aluminium guttering & uPVC roofline systems covering Halifax & Huddersfield.
---
Whether you're looking for new seamless guttering, PVC guttering, rainwater pipes, fascia boards or barge-boards, our range of products are made from high quality materials guaranteed to last.
This gives you complete reassurance that it will last for years to come without rotting, fading or peeling.
Alpine Roofing will remove the old fascia, soffits and gutters and install a revolutionary Roof-guard System in addition to high quality PVC-u  fascia, soffits and seamless aluminium guttering.
When choosing Alpine Roofing to replace your fascia boards, soffits and guttering, you are dealing with an established company with over 10 years experience in the roof-line and roofing industry.
We use our own scaffolding systems and are able to bridge conservatories and bay windows with minimal fuss.
Please click on our on-screen brochure for further information on our products.
Our services include:
Gutter cleaning and repair

PVC-u Cladding, fascia, soffits and barge boards

Dry ridge & verge systems

Roof-guard system

Twinplas guttering – the modern alternative to wood

Traditional wood guttering

Lead valley/box gutters

Rainwater & soil pipes
Seamless Aluminium Guttering
Mustang® Aluminium Seamless gutters are roll formed on site in lengths of up to 30 metres.  It is a unique system with no joints, meaning no leaks, creating a neat, maintenance free product of the highest quality, giving you peace of mind and the added extra of the visual appeal of smooth neat lines.
Manufactured from 90% recycled aluminium, which can be further recycled once it has reached the end of its useful life – it really is an environmentally friendly product.
Mustang® gutter system. The only aluminium seamless gutter system approved by the BBA.
Benefits Mustang® Seamless Gutter System
No joints, so no leaks
No waste – extruded to exact dimensions of the building
Minimal maintenance
The only British Board of Agrément (BBA) Approved Seamless Aluminium Gutter System.
25 years accreditation by BBA
Expected functional life expectancy in excess of 30 years (BBA)
Installed by ARP trained and approved contractors.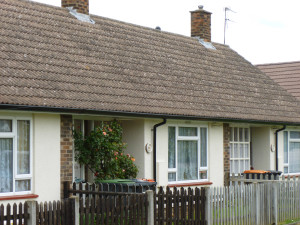 ---
Twinplas guttering
THE IDEAL ALTERNATIVE TO WOOD
Twinplas gutter profile is a rainwater system that has been designed to replace old-fashioned timber guttering or for new applications requiring a more traditional appearance.
The product weighs less than 3kgs per meter and is available with unique sleeve connectors which simply slide over the gutter profile. Also available are integrated down pipe fittings, internal and external corners.
Twinplas guttering is the perfect choice for replacement guttering in the public sector, terraced housing, barn conversions and commercial applications.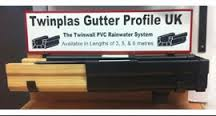 The perfect finishing touch for roof edges
Over time your roof edges can be prone to gaps and show signs of ageing around the edges of tiled roofs. Our dry verge products are the perfect finishing touch and offer a smarter way to tidy up edges and block any unsightly gaps while providing roof edge protection.
Made from PVC-U, our dry verge roof finishing uses a simple, clip fixing system of end caps for easy installation. Completely weather proof, it requires no maintenance and is available in five attractive colours to complement your roofline and roof tiles.
We clean, repair and install new guttering and roofline systems throughout Halifax, Huddersfield, Bradford and all surrounding areas.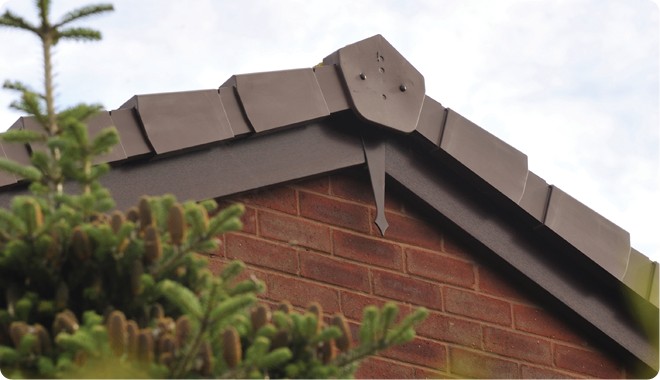 ---
Finlock (Concrete) gutter refurbishment
Gutterline stops gutters leaking, for good
The Plygene Gutterline® installed by Alpine Roofing & Maintenance has been developed specifically for Finlock type sectional concrete gutters, solving what has long been a massive problem.
For the first time ever, instead of resorting to temporary repairs using mastics, or coping with the horrendous disruption and cost of replacing these built-in gutters, Plygene Gutterline® provides an effective, economic and permanent solution.
Plygene Gutterline® addresses both outer and inner troughs to create a one-piece 'gutter within a gutter' which makes it impossible for water to get behind or beneath. It also incorporates a heavy-duty Plygene sarking angle designed to deflect all run-off water into the outer through.