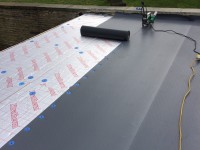 Alpine Roofing have just completed a new warm flat roofing system for Limelight Studios in Rastric.
The existing GRP roof was poorly installed and was causing high levels of condensation within the property.
We converted the existing roof deck into a new warm flat roof using 120mm of solid insulation and a single ply membrane – completed March 2017..
Alpine Roofing are flat roof specialists in Halifax and Huddersfield