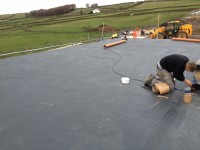 Alpine Roofing have installed a flat roofing system at the Fleece Inn, Ripponden using Firestone (EPDM).
We laid solid insulation boards 120mm thick over the new concrete base and then secured a new plywood deck over the top to create a solid base.  We then installed a new rubber membrane "Firestone" to waterproof the area creating a warm roof.
A new stone flagged patio area was then installed over the top to create an outside seating area.
This type of flat roofing system is guarantee for twenty years with an expected life of 40 years plus.
Please see our flat roofing page for more info
We install flat roofs using Firestone (EPDM) in Halifax, Huddersfield and Bradford, all our new installations are guarantee for 20 years.